One, two, three. Four, five, six. Seven, eight, nine. Ten, eleven, twelve. And they all played games. At the ladybugs' picnic.
---
Happy Summer!
Where do you spend these long sun-filled days? You'll find me in the garden. I'm weeding, watering. Starting to harvest. Cheering on slow-ripening tomatoes. My last batch of 2020 Salsa-ly Distant Salsa is almost gone!
I'm also fending off foes and welcoming the helpers. A sweet doe and her babe mowed my strawberries. My tardy ladybug friends arrived to save the aphid-infested hop vine. I love me some garden drama.
Speaking of bugs. It's National Pollinator Week! Show garden friends your kindness with green thumbs, not mean thumbs.

If you're struggling with sickly plants, try the irreplaceable garden columnist Dulcy Mahar's advice. Learn to embrace slug-eaten leaves as "laceleaf." And know that greenness can in part be due to a large dose of laziness. "Plants that require coddling are banned."
June is quite the show whether you toil in the soil or wander the farmer's market. Take a moment to appreciate the work of community gardens and local growers like Portland's Side Yard Farm. Green gardens are where we get to meet nature half way.  
---
Let's Play Kindness Tag!
Every month you're invited to play a gratitude game. First, fill yourself up with a few fun steps to catch gratitude. Then, release those good vibes into the universe and tag someone with kindness..
Catch Gratitude
Read something uplifting.
Make it an old favorite or a new adventure. My June pick is "Back in the Garden with Dulcy." The late Oregonian garden writer was a must read for me every Saturday for years. This book is a beautiful collection of her columns. Dulcy's work is witty and wise. Each column weaves together garden and life lessons.
More of a fiction fan? "The Language of Flowers" by Vanessa Diffenbaugh is a lovely summer story. The flowers and the main character bloom. Find both of these good reads at Powells City of Books.
Listen to some heart talk. 
Music, meditation apps, and podcasts can be so good for mental health. Are you a fan of the wildly popular "Untamed" memoir by Glennon Doyle? She now hosts the "We Can Do Hard Things" podcast!
This podcast is relatable and insightful. It pulls no punches with episodes like, "FUN: What the hell is it and why do we need it?" I get chills every time I hear the theme song line, "We stopped asking directions to places they've never been."
---
Release Kindness
Share your favorite cause.
When we want to put some kindness out into the world, sometimes it's hard to know where to start. Do a friend a favor. Fill them in on your favorite nonprofit. 
In honor of Pollinator Week, I'd like to introduce you to the Xerces Society. These giants in conservation are on Instagram @xercessociety and the experts behind "What Can I Do?" to bring back pollinators." 
Share a healthy activity.
Invite a friend to join you on your favorite workout. Share a new walking trail, fitness class, or tennis court. Most of us love a good shake up to our routine. I love getting friends hooked on Yoga with Adriene. She has an endless supply of videos that will help you "find what feels good." It's hard to pick a favorite, but "Yoga Morning Fresh" is pretty great.
Share a recipe.
Potlucks and barbecues are happening this summer! Don't be stingy with those recipes. These Buffalo Chickpea Burgersare perfect for "suns out buns out" season. More yummy vegan recipes are coming soon to the Kindness Roots Pinterest board.
---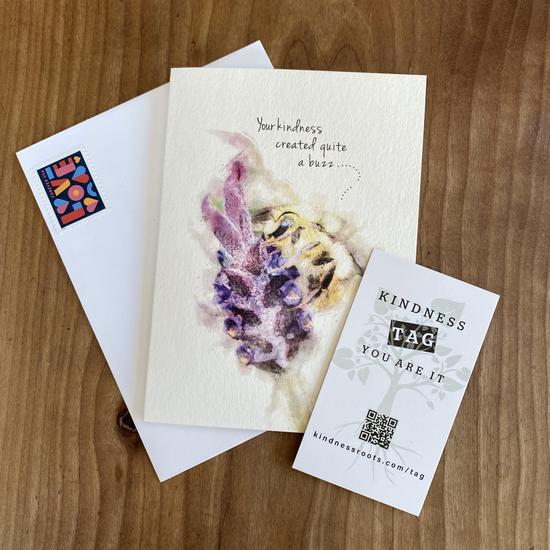 In Case You Missed It
❤ Check out our latest blog post about gardening with kindness. Read here.
❤ Two fresh designs are in the card shop. See them here.
❤ We crowned "A Kindness Buzz" the member Card of the Month. Join our gratitude club before the July mailing!
❤ Patty B and Becki L both won a free gratitude card! More giveaways and freebies are coming soon. Follow Kindness Roots through our monthly letter, Instagram, or Facebook for a chance to win. Follow all three for three chances to win.
---
My inbox is always open to you. Send questions, comments, requests, and vegan recipes anytime.
Enjoy the day!
Angie
P.S. Copy and share this link to anyone you think would enjoy reading our A Kindness Buzz monthly letter. https://mailchi.mp/b2c599cea16d/newsletter-freebie
Photo: Ladybug eating aphids on a hop vine in Oregon by Angie Windheim. Prints are available on Etsy.
Recommendations are all my own and not sponsored.