Someday we'll find it, the rainbow connection. The lovers, the dreamers, and me. Da-da-da-dee-da-da dum. Da-da-da-da-dee-da-da-doo.
---
Hey!
I've been wondering, have you ever dreamt of sliding down a rainbow? Me too! It's an idea as old as time. Way back in the days of Greek mythology, Iris was known to make her grand entrance to Earth on a rainbow. Iris must've somethin' to be compared to a peacock-colored flower and be "goddess of rainbows."
I am so grateful for life's rainbow moments – the times when light and color seem to magically burst through the gloom. But as Kermit sang and Maya Angelou wrote, the rainbow connection isn't magic, it's us. We can each choose to be "the rainbow in someone else's cloud."
I hope this letter puts sparkly sunlight in your day and leaves you ready to pop up a rainbow slide for someone in your life.
---
Let's Play Kindness Tag!
Every month you're invited to play a gratitude game. Start by filling up with fun ways to catch gratitude. Then, release those good vibes into the universe and tag someone with kindness.
Catch Gratitude
Read something heartwarming.
Yes, reading will relentlessly be first on your gratitude to-do list! Put something on your night stand that always lifts your heart. Or try something new like World of Wonders: In Praise of Fireflies, Whale Sharks, and Other Astonishments by Aimee Nezhukumatathil.
Aimee's collection of beautifully-illustrated and poetically-personal essays gets my ❤❤❤❤❤ rating this month. Find World of Wonders wherever books are sold including indie shops like Powells City of Books and Bookshop.
Listen to something soul-stirring.
Tune in to something that helps you tune in. Spin a nostalgic album or hit play on a podcast with your favorite author. I personally have listened to "For Every One" from author and poet Jason Reynolds more than a few times. Amanda Gorman's "The Hill We Climb" never gets old. I also enjoyed hearing her interview with Oprah on AppleTV. Skip the video. Put some earbuds in and just listen.
---
Release Kindness
Share some pretty posies.
Let's turn May Basket Day into May Basket Month. Gathering flowers and secretly leaving them at someone's door is a good idea anytime and at any age. Have fun with it. Don't forget to tie on one of these pretty gift tags. Subscribers to our monthly letter have the freebie link in their email. Not a subscriber? Sign up here.
Oh, and if you're scratching your head and wondering what a May Basket is, you can read the background on NPR.
Share a smile.
Before you shut off the screens for the day, reach out to someone with a quick picture, a screen shot, or an anecdote about something that made you smile. Make a direct connection to let someone know you are thinking of them. I recently found the Instagram account of artist and poet Morgan Harper Nichols @morganharpernichols. I will absolutely be messaging her beautiful work to friends. 
Share a recipe.
Please. Do. Not. Keep. Good. Recipes. To. Yourself. I am a firm believer that gardeners and cooks should always be generous with their discoveries. For a few years now, I have been working to put more vegan recipes on my table. And, I am here to report that my taste buds have not suffered. Check out the Kindness Roots Pinterest board with recipes I've actually successfully made like this Spicy Thai Peanut Ramen.
---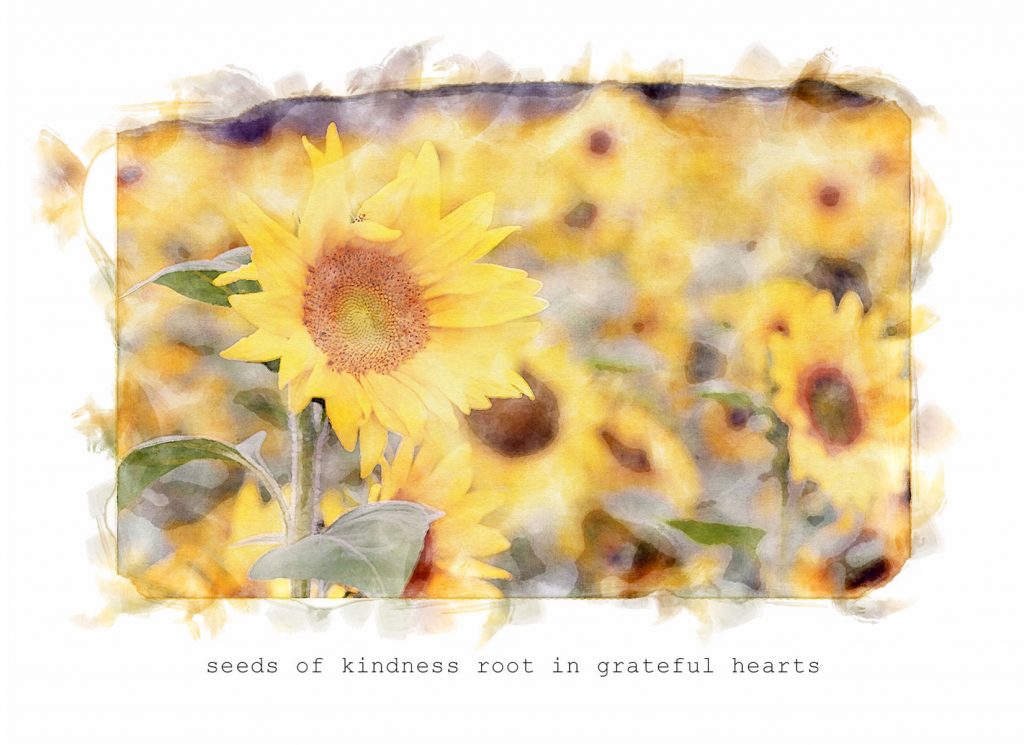 In Case You Missed It
❤ The Blog is bloomin'. This month we celebrated Earth Day with some new art and shared some flower folklore about Bluebonnets. Read here.
❤ The cards are blooming, too! Three flower-filled additions were made to the card collection. See them here.
❤ "A Brush with Kindness" was our member Card of the Month. Each card gets featured and shipped only once. Don't miss out on the June delivery! We also now offer Gift Subscriptions.
---
I hope you know that my inbox is always open. Send questions, comments, requests, brilliant ideas, or vegan recipes anytime.
Enjoy the day!
Angie
P.S. Text or email this link to anyone you think would enjoy our next A Kindness Buzz letter. Their welcome email will include the new gift tag freebie: https://mailchi.mp/b2c599cea16d/newsletter-freebie
Photo: Golden Chain Tree blossoms in morning light with rainbow flare taken by Angie Windheim. Prints are available on Etsy.
Recommendations are all my own and not sponsored.