Meet the Artist – Angie Windheim
---
Angie Windheim is the founder of Kindness Roots and also writes, curates, and turns her own fine art photography into digital watercolor for our gratitude cards. Many of Angie's favorite images are available in print on Etsy at AngieWindheimPhoto.
---
Never at a Loss for Words was the title of an autobiography meticulously penned by my hand at the age of 13. It was a true statement about who I was then and who I am 35 years later.
Before that epic 8th grade project, words were friends. Writing was playtime. After, I knew that writing could also be hard work. I learned that I could do hard things. At the end of each chapter, when I had found the perfect words to tell my story, I felt incredibly proud.
With a pandemic looming and political chaos in the background in 2020, I was walking off my stress when the phrase "kindness roots" settled in my brain and settled my nerves. I could feel those two words were the beginning of an important story. Gratitude cards are only the first chapter.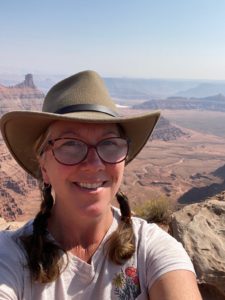 While always a bit doodle and sketch crazy, it wasn't until I picked up a digital camera that I discovered a love for creating visual art. Professional photography quite literally focuses my attention on the beauty that I find…everywhere. I am filled with gratitude for the perspective gained through my lens.
Kindness Roots presses together words and images into cards for noteworthy gratitude. My designs often start as original photography that I turn into digital watercolor. Others are curated graphics that I have reimagined.
As Kindness Roots moves forward, I hope to introduce a diverse community of artists to the collection. I also plan to introduce a gratitude practice that includes the environment. Our planet desperately needs a kindness revolution.